US Break's From Tradition And Trump Opens A Embassy In Jerusalem
Talk about watching history in the making. Looks like Trump is making plenty of moves this week so people, keep your eyes open, read and take heed to the message you receive.
Critics say the decision to recognize Jerusalem as the Israeli capital could make a region already struggling with four ongoing conflicts all the more combustible. And they argue it marks the end of the US role as an "honest broker" in Israeli-Palestinian negotiations.The new diplomatic office, is in what was an existing U.S. consular building, was opened in a ceremony led by U.S. Ambassador to Israel David Friedman and attended by Israeli and American leaders. The day has also been marked by violence, with at least 37 Palestinians killed by Israeli military forces and more than 1,600 injured in massive protests at the Gaza border against the embassy move, according to the Gaza Ministry of Health.
"Today's historic event is attributed to the vision, the courage, and the moral clarity of one person to whom we owe an enormous and eternal debt of gratitude — President Donald Trump," Friedman said to a standing ovation at the ceremony.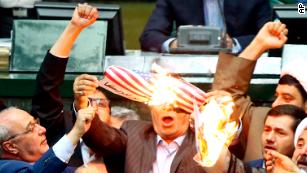 "In the long run, we're convinced that this decision creates an opportunity and a platform to proceed with a peace process on the basis of realities rather than fantasies," David Friedman, the US ambassador to Israel, told reporters Friday. "We're fairly optimistic that this decision will ultimately create greater stability rather than less."
A campaign promise
Trump announced the decision to move the embassy in December, when he formally recognized the city as the capital of Israel. It marked the fulfillment of a campaign promise he made to the pro-Israel group American Israel Public Affairs Committee.
"As the President stated on December 6, 2017, the historic opening of our embassy recognizes the reality that Jerusalem is the capital of Israel and the seat of its government," the State Department said in a statement.
In 1995, Congress passed a law requiring America to move its embassy from Tel Aviv to Jerusalem, but every president since then has declined to make the move, citing national security interests. The State Department noted that the opening will take place on the 70th anniversary of American recognition of the State of Israel, the day of its founding and a day that Palestinians refer to as "the Catastrophe," as hundreds of thousands fled their homes.
Trump will address Monday's ceremony by video, but was represented in person by his daughter and adviser 
Ivanka Trump
 and son-in-law and adviser Jared Kushner. The U.S. expected some 800 people to attend the event, including a congressional delegation and a presidential delegation led by Deputy Secretary of State John Sullivan.