Tiffany Haddish Takes on Sexual Harassers While Hosting 'Saturday Night Live'
Tiffany Haddish hosted the Nov. 11 episode of "Saturday Night Live" and addressed both Donald Trump and the various recent sexual harassment and assault allegations against politicians and entertainment professionals alike in her monologue. Noting that the show told her to be topical in her quick stand-up set, she offered some advice for men who may be struggling with how to interact with women in the light of all of these harassment allegations with a "Tiff Tip."
"Listen fellas, listen, if you got your thing-thing out, and she got all her clothes on, you're wrong. You're in the wrong," she said. "Wait 'til she takes her own clothes off, then pull your thing-thing out!" Additionally, Haddish, who said she gets her news from the beauty shop, pointed out that there everyone has been talking about Donald Trump's hair and how good it's looked since he became president. "Dang, who is doing Donald Trump's wigs? His lace fronts are off the chain!" She said. "What kind of glue is he using because when the wind blows it doesn't even move or nothing!"
The topics in this episode's sketches were more timely than some earlier in the season, and in a cold open that was surprisingly without Alec Baldwin as Donald Trump, the topic was the latest political sex scandal: Alabama senate candidate Roy Moore, who has been accused of molesting underage girls.
Beck Bennett's Mike Pence and Kate McKinnon's Jeff Sessions both sat down with Mikey Day's Roy Moore to discuss the allegations, with Bennett's Pence drawing a comparison between Moore's actions and Louis C.K.'s. "Even I heard about Louis C.K. and I'm not allowed to watch TV, I'm only allowed to listen to it," Bennett's Pence noted.
Bennett's Pence who urged Day's Moore to "do the right thing," saying he didn't have to think of it as ending a campaign but rather going to a kind of conversion therapy. Day's Moore, on the other hand, said that he would do the right thing, though his version of that was marrying the girl.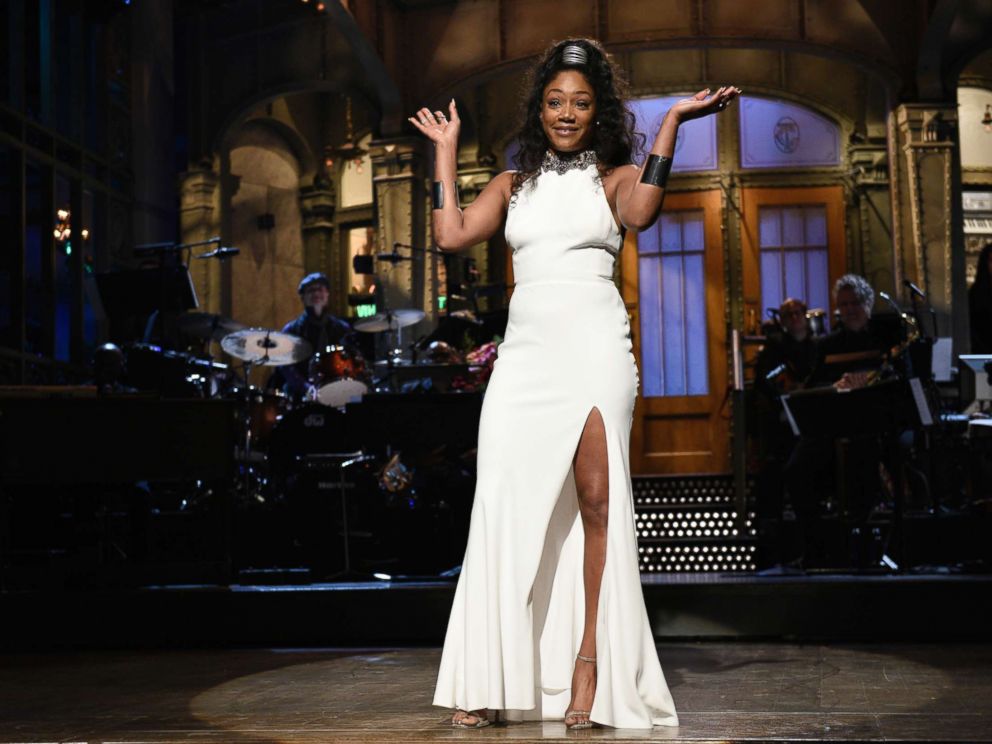 McKinnon's Sessions also implored Day's Moore to drop out of the race, noting that he was "too Alabama" for Alabama.
"Roy, you've been doing some controversial stuff — you wave a gun around on stage, tell folks Muslims shouldn't be allowed in Congress and that 9/11 was God's punishment for sodomy. I love it. You check a lot of boxes for me," McKinnon's Sessions said. "But it was pretty bad. I'm usually the creepiest one in the room, but I look at you, and I'm like 'Oh my God.'"
Later in the episode, "Weekend Update" circled back on the recent sexual harassment scandals, with Michael Che and Colin Jost saying that it's a "good weekend to stay inside because it's 20 degrees out — and everyone you've ever heard of is a sex monster."
Jost brought up the allegations against Moore again, saying that he "looks like someone who shows up at Westworld and says, 'Hey, can somebody show me where the middle school is?'" Jost pointed out that guys who post the Ten Commandments don't often follow them, but wondered what's next as a photo of C.K. came up on-screen: a guy joking about masturbating who wasn't just joking?
Che commented on Jim Ziegler's comparison of Moore to Joseph, who was an adult carpenter to Mary's teenager when they became the parents of Jesus. "Moore was trying to make a Jesus? So I guess R. Kelly was just trying to make it rain for 40 days and 40 nights," Che said.
Cecily Strong joined the men at the desk to play a character named "Claire from HR" who wanted to review rules against sexual harassment and noted that she would probably "be back next week and the week after that forever and ever" because this is not something that started last week but was instead "actual reality for half of the population."