Stephen Curry hit a shot so tough an opposing coach had to dap him up afterward
You don't often see an NBA player high-five an opposing coach in the middle of the game after draining a shot right in said coach's mug. But then, Stephen Curry has spent the better part of the last two and a half years showing us stuff we've rarely, if ever, seen before … and hey, sometimes, you've just got to respect the shooter.
During the third quarter of the Golden State Warriors' visit to Smoothie King Center to take on the New Orleans Pelicans, the two-time-reigning NBA Most Valuable Player curled along the sideline in front of the Pelican bench and caught a pass from teammate Draymond Green. With less than four seconds remaining on the 24-second shot clock, and Pelicans guard Jrue Holiday draped all over him, Curry did what he does best: create just enough space to get his shot off, by spinning off the catch to the 3-point arc and away from Holiday's outstretched hand.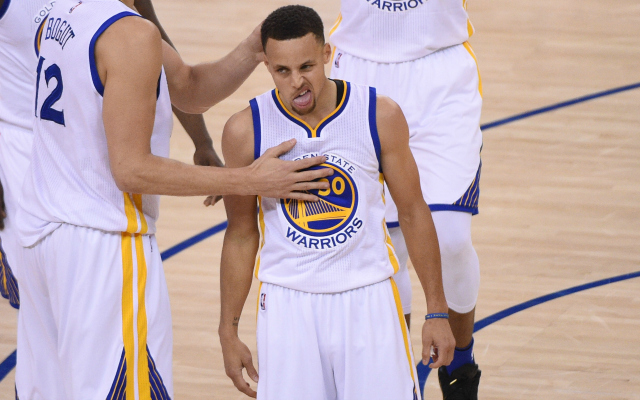 As he landed, Curry backpedaled a couple of steps, finding himself standing right next to Pelicans associate head coach Darren Erman — who, you might remember, was once an assistant in Golden State under Mark Jackson, before getting fired for allegedly making secret recordings of conversations between Warriors coaches and players (which Jackson's still not, like, thrilled about).
Both men watched the shot sail toward the basket; both men watched the shot fall softly through the net. Steph extended his hand to his former coach … and, heat of battle or no, Erman couldn't deny his former player the courtesy of some dap for making such a tough shot.
After the game, Curry explained the pretty great, and pretty peculiar, interaction:
"Obviously, I know him very well," Curry said. "He was telling, I think, Jrue — while I'm shooting, he's yelling out, 'If he makes it, it's a good shot. If he makes it, it's a good shot.' Trying to encourage their defense. So I wanted, you know, a little praise for that good shot I made. And he gave it to me. He's a good sport."
It was just one of many good shots Curry made on Tuesday: Curry scored a game-high 30 points on 11-for-23 shooting, including a 5-for-9 mark from 3-point land, to go with seven assists, four rebounds and a steal in 34 minutes as the Warriors came back from an early deficit to earn a 113-109 win. The victory capped a 4-1 road trip for the Dubs, who improved to a league-best 22-4 on the season and, thanks to Curry, did so in dap-demanding style.