Slavery With A Twist | Rockettes Boss Tells Dancers Concerned With Trump Inauguration Performance to 'Tolerate Intolerance'
Let us repeat the title of this story for you…. "Rockettes Boss Tells Dancers Concerned With Trump Inauguration Performance to 'Tolerate Intolerance'….. what you SAY!  Rockette Speaks Out About Performing at Trumps Inauguration. The Radio City Rockettes will be performing at President-elect Donald Trumps upcoming inauguration, but not everyone is happy about it.
And to be clear on this story… please take note……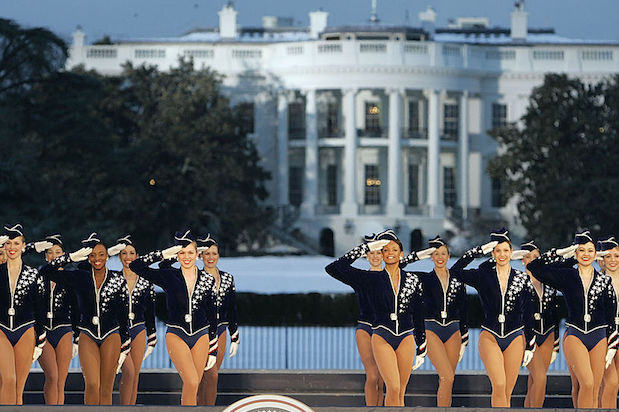 Marie Claire.com reports that no women of color in the Rockettes have signed up to perform at the Trump inauguration.
The boss of the Radio City Music Hall Rockettes reportedly told members of the dance troupe that performing in the inauguration is important for business. After many expressed concern that the Rockettes were seemingly being forced to perform at inaugural events for President-elect Donald Trump later this month, James Dolan, the CEO of Madison Square Entertainment and Sports, the Rockettes' parent company, addressed members of the organization.
In comments from the meeting obtained by Marie Claire, Dolan reportedly said,
This is a great national event. Every four years we put in a new president. It's a huge moment in the country's history. It usually signifies a whole change in how the government is going to run. The fact that we get to participate in it… We are an American brand, and I think it's very appropriate that the Rockettes dance in the inaugural and 4th of July and our country's greatest historical moments."
Dolan clarified to one dancer that the Rockettes' performing at the inauguration does not imply that they're supporting Trump outright, but also said that he in no way thought that having the group perform at the inauguration, and thus be associated with Trump, would taint the group's image.  
I don't believe it's going to hurt the brand. And nobody is more concerned about that than the guy sitting in this chair. I'm about to spend $50 million remounting this summer show. I'm going to spend a similar amount remounting next year's Christmas show. I gotta sell tickets."
When one dancer said to Dolan in the meeting (intended to be an off-the-record open conversation between Rockettes management and the dancers themselves in response to the public reluctance by some dancers to be forced to perform at the Trump inauguration), "I mean, it just feels like you're asking us to be tolerant of intolerance," Dolan reportedly replied, "Yeah, in a way, I guess we are doing that. What other choices do we have? What else would you suggest?"
In a statement, Barry Watkins, Chief Communications Officer for The Madison Square Garden Company said that the story told to Marie Claire was from an unauthorized recording taken by one member of the group who violated the confidentiality "of all of her sister Rockettes." Watkins notes that while Dolan stands by what what said in the meeting, "no one in that room believed they were speaking publicly. Everyone in the meeting had the chance to speak their mind in a safe setting, and many did."
The controversy involving the Rockettes' participation in Trump's inauguration began when Rockette Phoebe Pearl wrote in a a since-removed Instagram post, "I usually don't use social media to make a political stand but I feel overwhelmed with emotion. Finding out that it has been decided for us that Rockettes will be performing at the Presidential inauguration makes me feel embarrassed and disappointed. The women I work with are intelligent and are full of love and the decision of performing for a man that stands for everything we're against is appalling. I am speaking for just myself but please know that after we found out this news, we have been performing with tears in our eyes and heavy hearts. We will not be forced! #notmypresident".
Meanwhile the union that represents the Rockettes, the American Guild of Variety Artists, ruled that any boycott or refusal to perform by members of the Rockettes at the inauguration would be "invalid," saying in a statement that all full-time members of the Rockettes are "obligated" to perform.
Attorney and NBC News legal analyst Lisa Bloom, who represented several of the women who came forward during the general election with allegations of having been sexually assaulted and groped by President-elect Trump, has offered her services to any Rockettes considering protesting who fear losing their employment with the Rockettes and Madison Square Entertainment and Sports as a result.
We guess it's safe to assume, these ladies don't get sick days or vacation days.