Rick Ross Rachet Baby Mama's Setting Up Fight In The Ring
This has to be the next dumbest thing I've heard and while it is best to not have several baby daddy's or mama's. While Rick Ross is in need of paying attention to his health after his recent second scare, his two baby mama's have come up with an idea to fight each in other in a boxing ring instead of killing each other in the streets.
 (Rolling Out) While Rick Ross is successfully recovering from a debilitating medical malady that nearly took his life, two of his baby mothers look like they are ready to take each other's lives in a back-and-forth, tit-for-tat volley of threats and insults. The drama popped off when Lastonia Leviston reportedly posted this picture to her Instagram stories, the butt of a gun visible, warning someone not to go where they aren't welcome, according to Tea Tenders.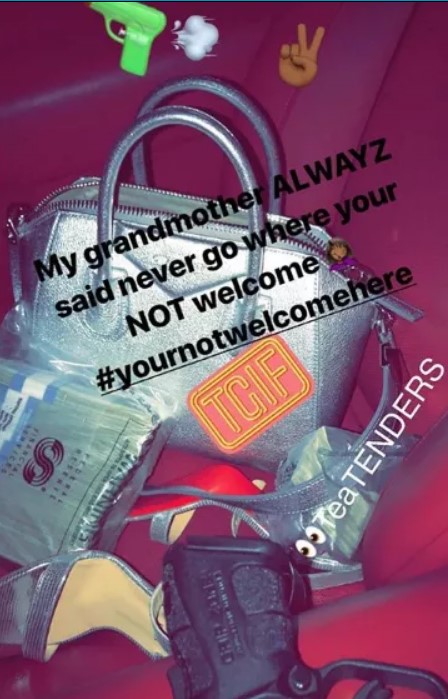 If you take into account that Ricky Rozay was was in the hospital at the time, and Leviston and his eldest daughter were at his bedside along with other friends and family members, you can easily see how Ross' other baby mama, Tia Kemp, could see this as a direct threat to her and her son with Ross. They had not yet arrived at the hospital.
Keep in mind that Kemp recently put Ross on full furnace blast a few months ago, denigrating his parental skills, and was in the process of trying to up her monthly child support payments from $2800 per month to $20K per month just when he had his horrible medical episode. Kemp didn't appreciate being threatened by a gun and is not interested in getting into a shoot-out in the streets. Kemp has come up with a better idea: a boxing match inside a ring at a predetermined site.
She may get her wish. A Florida promoter heard about Kemp's desires and has reportedly offered up a venue. If these ladies are that amped to pummel each other, it seems Strong Arm Boxing Club in Hialeah, Florida is anxious to accommodate the ladies. Do you believe Ricky Rozay's baby mamas will actually knuckle up in the ring?
Check out Kemp's challenge to Leviston below that she posted to YouTube via StreetVue (warning: strong language):