R.I.P. Brazilian Politician Marielle Franco Assassinated With 5 Shots To The Head
On March 14th in the Estácio area of Rio de Janeiro, Councilwoman Marielle Franco of the Socialism & Liberty Party (PSOL) was executed with 5 shots to the head. Her driver, Anderson Pedro Gomes, also died in the attack. Witnesses say that they could not hear the shots, indicating that the execution was committed with a silencer.
Franco, 38, was one of the city's most outspoken critics of the military occupation and police violence. When, on the outset of the February 16 Military Occupation, General Braga Neto announced that he didn't want another Truth Commission set up to investigate military human rights abuses, the city favela residents association federation set up a people's committee to monitor the action, and nominated Franco as its rapporteur.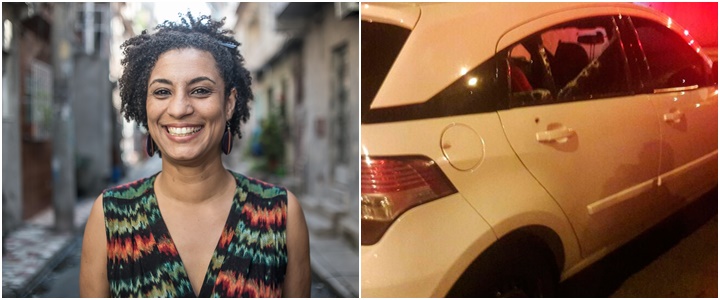 On March 10th she publicly criticized the Rio Military Police's 41st Battalion for a series of police executions of teenagers in Acari favela that had taken place the previous week.
The Assassination of Human Rights Activist Marielle Franco Was a Huge Loss for Brazil and the World
(Black American Web) Marielle Franco was trying to bring serious change to Brazil. The 38-year-old activist, who was elected to office in 2016 as part of the leftist Socialism and Liberty Party (PSOL), was outspoken about police brutality, introducing bills to spark advocacy campaigns about sexual violence and the incarceration of Black youth.
She also was one of many Black Brazilians who were rising up inside and outside statehouses, as well as one of only six women on Rio's 51-person city council. On the day she was killed in her hometown of Rio de Janiero,  Bustle.com reports that she "attended and live-tweeted a panel of young, Black female speakers about creating more structural opportunity for Black women.
She left the event with a press officer and her driver, Anderson Pedro Gomes. While they were on the road, two men  reportedly drove alongside them, shooting into their car nine times. Franco and Gomes were killed. The press officer, who sat in the back, survived, with injuries."
TeleSUR also reports, "Her death was confirmed by councilman Tarcisio Motta (PSOL), who said that 'several indications point to an execution.'"
France lived in Favela da Maré, an impoverished community in Rio, and she was a constant defender of human rights. The day before she was killed she spoke out about Brazil's military police.
The last tweet from France read:
The tweet translates to, "Another murder of a young man who may be entering the PM's account. Matthew Manu was leaving the church. How many more will have to die for this war to end?"
Franco is being mourned and honored on social media.