Paris Jackson's Best Instagram Pics Featuring Her Godfather Macaulay Culkin
Macaulay Culkin, 36, became friends with Paris' dad Michael Jackson after starring in the popular Home Alone movies. The King of Pop made him godfather not only to his daughter but also to his sons Prince and Blanket. 
The late Michael Jackson only had one daughter, and she's grown up to be a badass, free-spirited woman who absolutely rules Instagram. Paris Jackson, full name Paris-Michael Katherine Jackson, was born April 3, 1998 to the King of Pop and his then-wife Debbie Rowe.
Paris's best Instagram shares show her love of environmentalism, throwback pics of her family, her adorable pets, and even a few cameos from her super-famous godfather, child actor-turned-musician Macaulay Culkin. Home Alone star Culkin and Paris' dad Michael Jackson became close friends in the early 1990s and Culkin took the stand in Jackson's defense at his 2005 child molestation trial. 
Back in May 2005, Culkin took the stand at Jackson's child molestation trial in Santa Maria, California, to defend the Thriller hitmaker. The former child star acknowledged sleeping in the same bed with Jackson many times as a young boy during visits to Neverland Ranch in Santa Barbara County, California, but insisted he was always fully clothed and was never molested by the pop star.
He explained that his bond with Jackson began after the entertainer called him 'kinda out of the blue' after Culkin became an overnight sensation in 1990 at the age of 10 thanks to Home Alone. Culkin always says (until this day) that Michael never molested him and that he looks up to Michael like a son to a father. He can't see anything strange in their friendship,because as he says, MJ was the only one that was able to understand him as a child.The reason for that was in his opinion that they both grew up in the showbiz and that they both had no childhood.
Paris and Her Mom #Cancer News Update….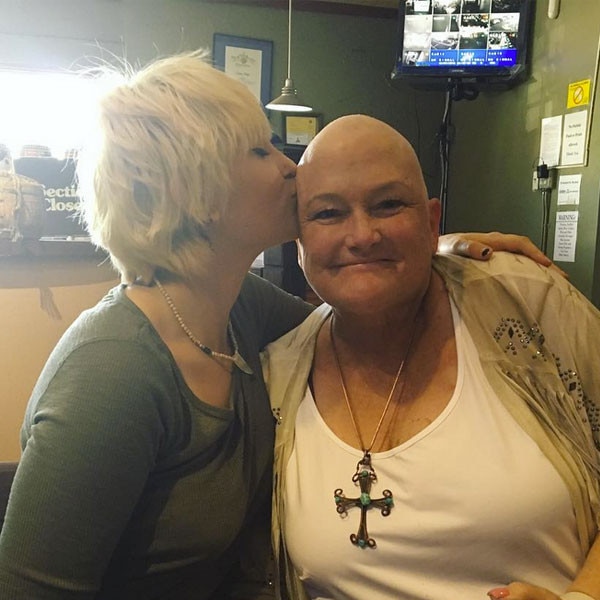 The 18-year-old daughter of Michael Jackson shared a heartwarming photo of herself planting a kiss on formerly estranged mother Debbie Rowe's bare head while visiting her at the hospital as she begins chemotherapy. It was revealed in July that Rowe was diagnosed with breast cancer.
Rowe, who is also the mother of MJ's eldest child, Prince Michael, hadn't been photographed with her children in years. Although both Prince and Paris are both now legally adults, they were previously under the guardianship of Jackson's mother, Katherine, following the King of Pop's death in 2009. Rowe was awarded supervised visitation rights with her children in an agreement with Katherine at that time.
The last time Rowe and Paris were publicly seen together was in April 2013, when the pair stepped out to grab lunch at Fire Island Grill in Palmdale, Calif., marking one of the first times the duo had been seen together in public since Paris was a baby. 
However, it's been reported that Paris got back in contact with her mother shortly after the cancer diagnosis went public. Reports claim Paris would visit Rowe throughout her cancer battle, and the two would text each other regularly.