Well well well, there is a God and no his name isn't Trump but it appears that #45 was able to influence the officials to release these young and dumb boys. They can definitely plan on being suspended from the team and if they aren't, then this will seem like a staged situation to make #45 look great in American eyes. However, one family I know who isn't happy about this story is the Warmbier Family. Otto Warmbier a college student was imprisoned in North Korea after attempting to steal a poster.
Otto Warmbier, 22, was on his way back to the United States after spending 17 months behind bars for pulling down a piece of propaganda in his hotel from 15-year sentence however, he was sent home in a COMA and died a week later.
via TMZ
TMZ Sports has obtained video of LiAngelo Ball and his 2 UCLA teammates at the Pudong International Airport in Shanghai minutes before boarding their flight to the United States. Ball, along with Jalen Hill and Cody Riley were dressed in sweats and sporting UCLA team backpacks and sneakers as they made their way toward the boarding area Tuesday evening (local time).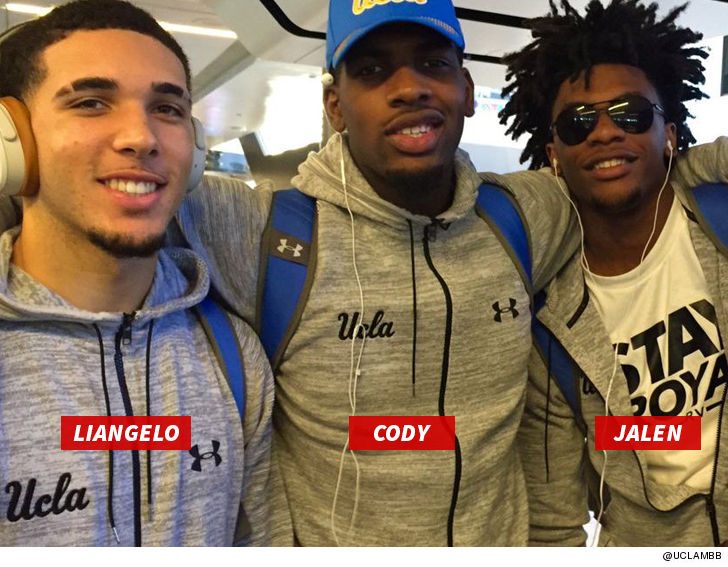 The person who shot the video says the guys appeared pretty relaxed — and it's reflected in the video. All 3 men were arrested last Tuesday for allegedly shoplifting at Louis Vuitton and reportedly faced up to 10 years in Chinese prison if convicted.
Donald Trump, President Xi Jinping and Jack Ma were all involved and tried to get the charges reduced. They were successful all charges were dropped. Question now … what happens when they get back home? Stay tuned ..