Hollywood Event | Hip Hop Weekly Soundstage & Interview Suite | #AMA Weekend
The Hip Hop Weekly Soundstage & Interview Suite is a premiere interactive media and entertainment platform, staged live across the country, at the largest event weekends attracting the urban entertainment industry and multicultural consumer markets and last night #Swagggirlicious Media was be in the building, taking in the experience and connecting with some of the industries elites presented by non other, the man himself Alvin Mays!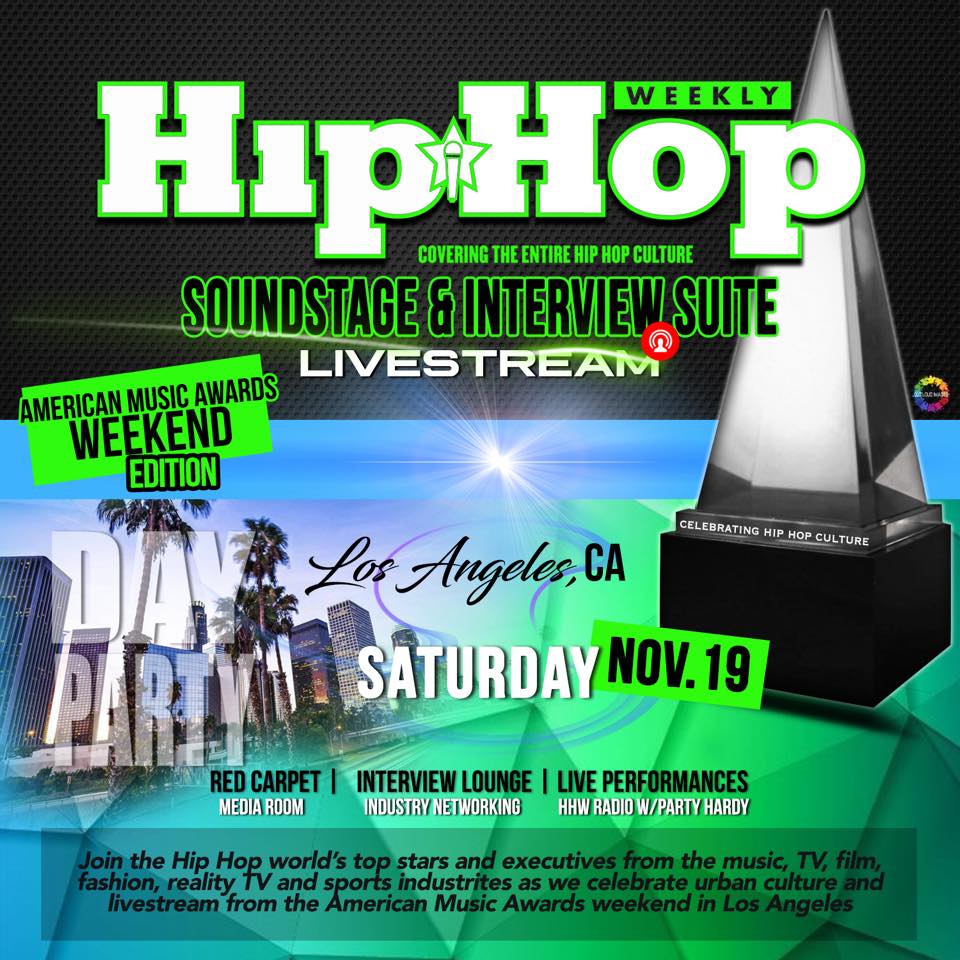 The Hip Hop Weekly platform consisted of a star-studded VIP day party featuring an intimate, behind-the-scenes Livestream and social media broadcast with Hip Hop Weekly host Tami Roman reporting live from the red carpet festivities, conducting celebrity one-on-ones streamed from the Interview Lounge & Gifting Suite, and introducing electrifying artist performances straight from our HHW Soundstage.
This event happening in Hollywood tonight brings together music, entertainment & sports celebrities, industry executives and tastemakers in an exclusive social and networking environment. 
SWAGGGirlicious Media Gem From Last Night: "

Compton Menace

" & "

Trendsettaz Shady

" 
Jumping on in the thick of the mix from last night in Hollywood, #SWAGGGirlicious Media supported Image PR Boutique clients "Compton Menace" & "Trendsettaz Shady" during the red carpet day event held at Club Project LA with DJ Nectar on the ones and twos.
Follow Compton Menace: Instagram | Twitter | Facebook
If you need an intro for Compton Menace, then here you go… Compton Menace releasing his first in 2010 titled "Menace II Society" earned him street credibility in Compton and Los Angeles. He also gained a buzz among fellow bloods with his follow up projects Menace II Society Vol. 1, Vol. 2 and Living Life Reckless.
The Compton native's first single was "It Ain't My Fault" featuring Birdman of Cash Money Records which gained radio play in market across the United States. Menace has recorded songs with a wide range of artist including Lil' Wayne, Tyga, Meek Mill, Mykki Blanco, The Game, Mario, Young Buck, Juba Kalamba, Paul Wall, Slim Thug, Z-Ro, Trae Tha Truth, 8Ball & MJG, and Drumma Boy.
Now let's get into the joke'ster himself Trendsettaz Shady and what he has coming up. He has an exciting 2017 agenda planned for himself and it all starts with his move from Philly to Cali. As next year progresses there will be more to learn, know and understand about this man including but not limited to how his life has been being on the OBH label after his Cash Money label deal. 
Follow Trendsettaz Shady Now: Instagram | Twitter | Facebook 
Trendsettaz Shady also has a clothing brand and his Soul Of A Legend EP that is actually set to be released in the second quarter. For more on these two guys as well as booking or interviewing opportunities, check out their PR rep below: 
For interviews or booking information on Trendsettaz Shady and Compton Menace:
Email: ali@imageprboutique.com
Website: www.imageprboutique.com