A Spice Girls Reunion Tour Is What Fans Really, Really Wants
Rumors of a full-fledged Spice Girls reunion have just gotten a huge boost thanks to new pictures of all 5 of women together shared by Victoria Beckham (Posh Spice) and Emma Bunton (Baby Spice). The entire Spice Girls line-up has not been seen together since the 2012 London Olympic Closing Ceremony where they last performed. Ever since then, rumors have been swirling about a full reunion with a tour and album. It isn't clear if that's in the cards, but as Emma Bunton said in one of the photos, "the future is looking Spicy."
On Wednesday (Feb. 7), TMZ reported that a Spice Girls reunion tour through the United States and the U.K. is happening, though the group has not yet confirmed any tour plans. The rumors come after last week, when Emma Bunton (aka Baby Spice) posted a pic with her fellow Spice Girls — Victoria Beckham (Posh), Mel B (Scary), Geri Halliwell (Ginger) and Mel C (Sporty) — on Instagram.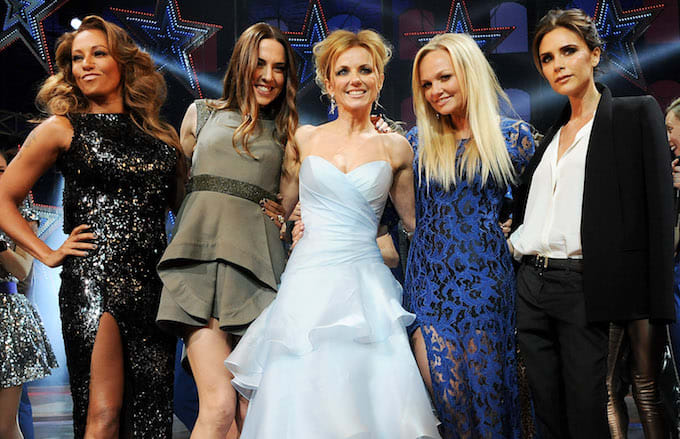 The Spice Girls are the biggest selling British girl group of all time, selling over 85 million records worldwide. The 5-piece reunited for a massively successful tour in 2007 and as previously noted, they last performed at the 2012 London Olympic Closing Ceremony. The women even had a hit movie in 1997 with Spice World, which earned over $100 million at the box office.
A lot has happened since then and there have been constant talks of a reunion ever since 2012. Last year, Victoria Beckham responded to rumors of a 2018 reunion by saying, "It is not happening." She went on to say that Girl Power is still alive and well but said that they were not getting back together.
It looks like Victoria Beckham may have changed her tune. Although nothing is confirmed, it certainly looks like there is something in the works for the future of the Spice Girls. 2018 marks the 20th anniversary of the breakup of the group, so there could be some pretty massive offers on the table for a full-scale reunion of the world-famous group. Or, it could be something small like getting together for a commercial. At this point, it's too early to tell, so it's best to sit back and let the reunion photo spice up your life on its own for now. The group did release this statement to Entertainment Weekly